How a change management plan can help disaster recovery
Learn to construct a change management system and address business continuity maintenance, and how the two processes complement each other in a BC/DR plan.
Whenever your IT organization makes changes to infrastructure, it probably uses a formal change management plan. Change management is used to oversee modifications to systems, networks, infrastructures, documentation, procedures, policies and many other activities.
Maintenance of business continuity and disaster recovery plans is a critical part of any BC/DR initiative and a key component of the global BC standard ISO 22301. Just as there will be changes to IT infrastructure assets, an organization should make commensurate changes to the DR plans that support those updated assets. For example, suppose you migrate from locally hosted platforms to a cloud-based system. DR plans that protect the brick-and-mortar systems should now be updated to reflect the change to cloud technology. Changes to BC/DR should be managed through a change management plan, the same as any other IT activity.

To avoid chaos and complete changes in a timely and cost-effective fashion, structured processes for managing and controlling change have been developed over the years. They can be very simple, using a table format like the one above.
By contrast, the change process can get very complex. It can require a change review board and a change management system to process requests, track them, provide alerts when critical dates are approaching or have been missed, and close out each request.
An effective change management plan is an ideal foundation for establishing a BC/DR maintenance program. Many of the issues that manifest themselves in BC/DR tests and exercises result from internal changes within the organization, such as in staff, physical sites or technology. Change management programs address essentially the same things -- situations that change the way the business functions. As BC/DR plans help to ensure the business -- and all its component parts -- can continue functioning, it makes sense to add them to the change management process.
A typical BC/DR maintenance program, like a change management program, addresses both scheduled and unscheduled activities.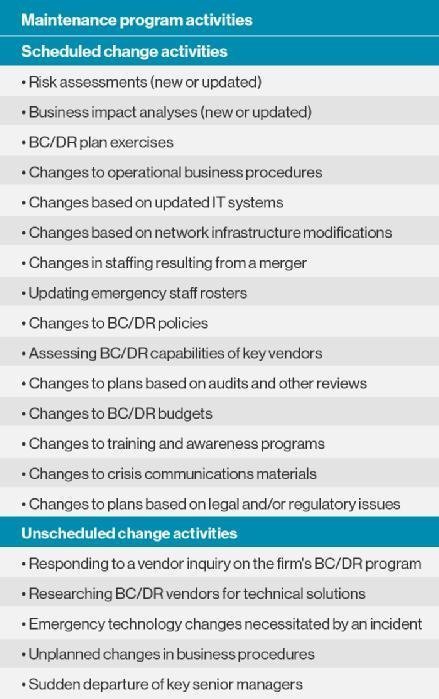 Think of a BC/DR maintenance program as a detailed change management schedule that keeps plans up to date, ensures policies comply with standards and regulations, and guarantees emergency teams are trained and know their responsibilities. Leveraging an existing change management plan for BC/DR maintenance ensures that BC/DR activities will be performed as scheduled.
An effective change management plan is an ideal foundation for establishing a BC/DR maintenance program.
Change management systems are numerous and can be either open source or proprietary. Most use a database management component to track change activities and associated data. Proprietary systems can often be large and complex, whereas open source systems may be a cost-effective alternative. Open source examples include:
Disaster readiness is enhanced when BC/DR plans are current and tested periodically. Ensure your plans are up to date with a maintenance program based on approved change management policies and procedures.
Dig Deeper on Disaster recovery facilities - operations