Building staff-related disaster scenarios for BC/DR exercise planning
Develop effective staff-related disaster scenarios in your BC/DR exercise planning by focusing on the sudden loss of more than one key person.
Building a disaster scenario with staff offers a broad palette of possibilities. Situations where key employees...
Continue Reading This Article
Enjoy this article as well as all of our content, including E-Guides, news, tips and more.
are impacted by something -- e.g., an accident, sickness or death in the family -- can provide a realistic start to a scenario, and should be part of your business continuity/disaster recovery (BC/DR) exercise planning.
One of the primary concerns in many organizations is the loss of key staff, especially those with knowledge about mission-critical systems or processes. A good way to reinforce this important issue in your BC/DR program is for the scenario to focus on the sudden loss of more than one key person: A critical system suddenly fails, and managers realize that nobody else is trained in how to use it.
In today's world, active shooters are a real possibility, so introducing an employee who suddenly "goes rogue" may be an interesting parallel challenge to the scenario. Make the scenario more interesting in your BC/DR exercise planning by adding a series of either simultaneous or seemingly unrelated events to the mix. And it's always good to set up a "pause" in the scenario to make the participants think the scenario is over, when in fact much more is coming.
These BC/DR exercise planning scenarios focus on human-based scenarios, such as a disgruntled employee sabotaging an assembly line: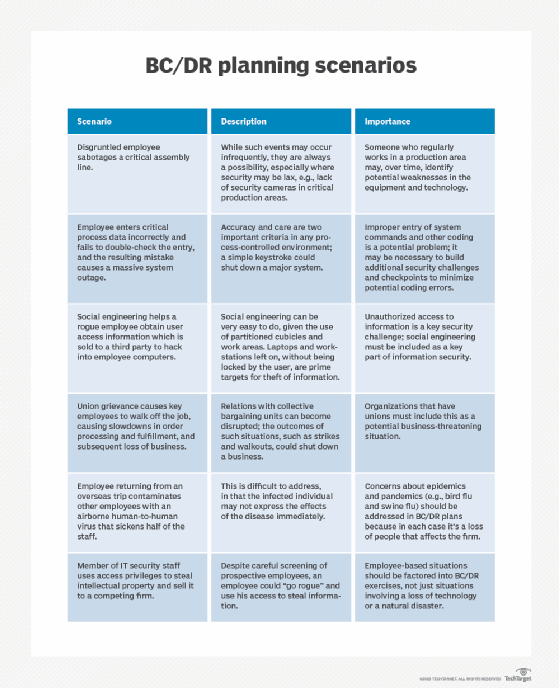 Dig Deeper on Disaster recovery planning - management