zohir - Fotolia
Azure disaster recovery: Best practices for restoring VMs
With Azure VM backup, virtual machines can run in the cloud while a business gets back on its feet. But there are two key considerations to keep in mind.
Now that Microsoft's Azure cloud has had time to mature, some organizations have begun basing their disaster recovery...
Continue Reading This Article
Enjoy this article as well as all of our content, including E-Guides, news, tips and more.
plans around it. If, for example, an organization's data center is severely damaged, virtual machines may need to be restored to Azure. This allows VMs to run in the cloud until data center issues can be resolved. As great as it sounds, you need to consider the practicality of Azure disaster recovery.
There are two procedures that have to be considered when restoring VMs to Azure: How will you get virtual machines into Azure, and what will it take to make those VMs function in the cloud?
Moving VMs to Azure
Your options for moving VMs to Azure vary widely, depending on the nature of your disaster and how much prep work has been done ahead of time. Although Azure can be configured to function as an extension of your own data center, you probably won't be able to use your backup application to seamlessly restore a VM to Azure.
Azure VMs are more rigid than the virtual machines that run in-house. Suppose you have a VM with 4 GB of RAM, 4 CPU cores and 250 GB of hard disk space. Azure won't allow you to create a VM that matches those exact specifications. Instead, you will have to use one of Azure's built-in VM sizes, as shown below.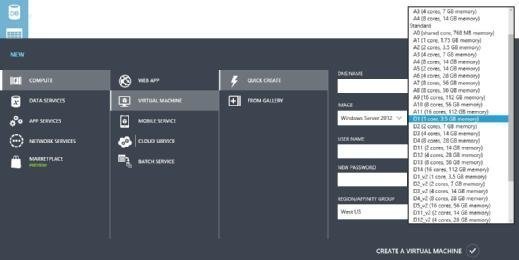 There are three major options for restoring a VM to Azure:
Retrieve virtual hard disk files from your backups, upload them to Azure and connect them to Azure VMs. This Azure disaster recovery process is easy, but there are some disadvantages. Azure does not support VHDX-based virtual hard disks. You can only upload virtual hard disks that are in VHD format. Although tools exist to convert VHDX files to VHD, such conversions do not always work and may be impossible if the original VHDX file is too large. In addition, the upload process is time-consuming and results in a significant amount of downtime.
Use Azure Site Recovery. The Azure Site Recovery service allows users to replicate VMs to Azure or a remote data center. It is more of a disaster recovery as a service tool than a restoration tool and can only be used if you have set up replication before the disaster occurs.
Create a series of Azure VMs with an operating system, install a backup agent and restore backups to these VMs. This operation relies on a working backup server and connectivity to the Azure environment -- which may not be possible during a disaster. The success of this Azure disaster recovery operation may also depend on whether your backup software can handle the differences between the original VM and the replacement Azure VM. For example, some backup applications will not allow restoration of a backup to a VM with a smaller virtual hard disk, even if that disk can accommodate the data.
In some cases, it may be possible to install your backup software to an Azure VM, upload your backup media and perform an Azure disaster recovery operation entirely in the cloud. But such an operation would be tricky at best, and impossible at worst.
Virtual machine functionality
Restoring a VM to the cloud is only the first step. Once the restoration is complete, you must still make the virtual machine function by ensuring the VM has access to the necessary resources. At a minimum, the newly restored VM will likely need Active Directory, a location-appropriate IP address and access to a domain name system server that is aware of the new addresses used by any dependency resources.
Moving a VM to the Azure cloud following a disaster can be deceptively difficult. If you plan to perform Azure disaster recovery, you should test the plan before disaster strikes to familiarize yourself with the nuances of recovering a VM to the cloud.