Search
Disaster
Recovery
Voice Communications Disaster Recovery Plan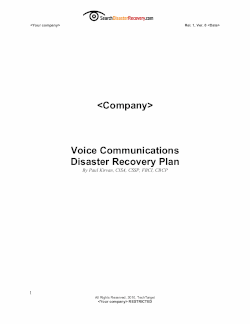 Creating a voice communication technology disaster recovery plan -- one that responds to and eventually recovers the systems and/or network services -- can be a straightforward process.
The keys to a successful plan are to:
Understand the risks to the voice infrastructure

Collaborate with vendors and network service providers as much as possible

Define step-by-step procedures for response and recovery

Validate these actions through exercising

And keep the plan and its various components up to date
About the creator of the template:
Paul Kirvan, CISA, CSSP, FBCI, CBCP, has more than 20 years experience in business continuity management as a consultant, author and educator. He has been directly involved with dozens of IT/telecom consulting and audit engagements ranging from governance program development, program exercising, execution and maintenance, and RFP preparation and response.