everythingpossible - Fotolia
Peak 10 + ViaWest enhances cloud DR, expands footprint
Peak 10 purchased ViaWest for $1.675 billion. The combined company upgraded its Recovery Cloud and is looking to rebrand and add a new suite of services.
Newly merged hybrid IT provider Peak 10 + ViaWest wasted no time upgrading its cloud disaster recovery product with extended journaling and on-demand testing.
The Recovery Cloud disaster recovery as a service (DRaaS) now provides 30-day Extended Journaling, more than doubling its previous failback window. The enhancement, launched in August, came just three months after the vendor increased its journaling from four hours to 14 days, and three weeks after the merger closed.
Customers can test the DRaaS with the assistance of Peak 10 + ViaWest engineers. Through a secure portal, customers can also test independently on demand.
Peak 10 + ViaWest sought to make testing easier and give customers more options, said Steve Renda, vice president of product.
"If there's any friction in that process at all, you see [customers] not doing it as much as they could," Renda said. Customers had asked for the self-testing feature.
Peak 10 + ViaWest is working on multi-targeting, which would allow up to three failover recovery sites. The Recovery Cloud enhancement is expected in the first half of 2018.
For CTO, cloud DR equals better sleep
A year ago, training and development services provider eLogic Learning switched from a CenturyLink colocation facility to Peak 10 Recovery Cloud for its DR.
I sleep a lot better at night. I don't have to worry about hardware failures.

Bill SnowdonCTO, eLogic Learning
CTO Bill Snowdon referred to himself as "old-school," and said it was a change for him to move to the cloud. But the new product is already paying dividends.
"I sleep a lot better at night," Snowdon said. "I don't have to worry about hardware failures."
Snowdon said eLogic has about 120 clients and 10 million users per month. Its entire infrastructure -- 15 TB of capacity and 13 virtual machines -- is in the Peak 10 + ViaWest cloud.
Based in Tampa, Fla., eLogic Learning has not had to fail over yet, but has tested effectively. During Hurricane Irma in September, the company lost power at its headquarters for two days, but suffered minimal production impact, as its cloud data center is in Atlanta, while its DR is in Louisville, Ky. Its old colocation center was in the footprint of the storm.
Snowdon was in constant contact with Peak 10 + ViaWest during the storm, and noted that support was one of the elements that stood out when eLogic Learning was reviewing disaster recovery options. Some other vendors only offered email and no phone number for support. Snowdon said he understands how important support is, since it's a big piece of his company.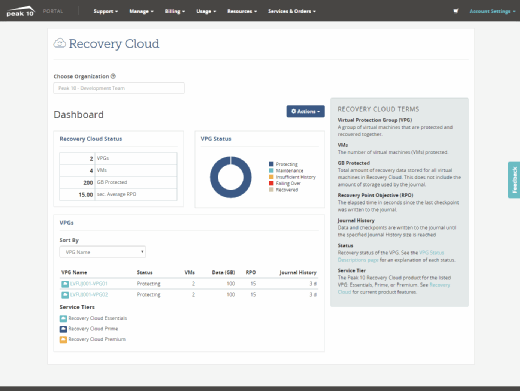 Peak 10 + ViaWest: It's a deal
Peak 10 acquired ViaWest for $1.675 billion from Shaw Communications in a deal that closed in August. The cloud services providers combined have 40 data centers and 4,200 customers. Peak 10 leaned midmarket, with many customers in healthcare and finance. ViaWest skewed larger, and Renda said he is hoping to pick up more national companies with the new bigger footprint.
Peak 10 + ViaWest has DRaaS locations in Charlotte, N.C.; Atlanta; Louisville, Ky.; Salt Lake City; Seattle; Calgary, Alta.; Denver; Dallas; Portland, Ore.; and Allentown, Pa. Peak 10 previously had three DRaaS sites.
Before the acquisition Peak 10 had around 400 employees and ViaWest had roughly 600. The combined Peak 10 + ViaWest has about 1,000 employees.
"Peak 10 + ViaWest recognizes and values our current employees and we are hoping to further expand our numbers, not decrease them," Renda said. "A lot of exciting things are coming out of this acquisition, so it's all hands on deck for the foreseeable future."
Chris Downie, the former CEO of Peak 10, retains that title for the combined company while Nancy Phillips, the former CEO of ViaWest, is the new executive chairwoman of the board. Downie, who started at Peak 10 in September 2016, said earlier this year that expansion was one of his top goals.
GI Partners, a former investor in ViaWest, acquired Peak 10 in 2014 and will remain the majority shareholder of the combined company.
Peak 10 + ViaWest is working on a rebranding, and Renda said he anticipates a name change within the next few months. He said he expects that it will take about 18 months before both product lines are fully integrated into the expanded company.
Included in the roadmap, Renda said, is a data protection suite of services that includes storage, backup and replication, anticipated in early 2018.