Share this item with your network: BACKGROUND IMAGE: iSTOCK/GETTY IMAGES
Managing and protecting all enterprise data

iSTOCK/GETTY IMAGES
Disaster recovery in the cloud
Hybrid cloud disaster recovery (DR) appliances are an emerging class of business continuity product that makes effective and timely DR affordable for even the smallest of firms.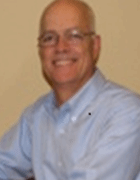 By
Hybrid cloud disaster recovery (DR) appliances are an emerging class of business continuity product that makes effective and timely DR affordable for even the smallest of firms.
The term "disaster recovery plan" can have a range of definitions, from a hot-site data center that provides failover in seconds to a small business owner taking backup tapes home in a backpack. In reality, most companies fall somewhere in between these two extremes. They don't need recovery in seconds, and couldn't afford a redundant infrastructure anyway, but they certainly need more than a system that relies solely on backup tapes.
With asynchronous replication now commonly available on storage and networking devices, getting data transferred to a remote facility or to a cloud service has become relatively easy. This capability has been sold as a way for companies of all sizes to implement a disaster recovery (DR) solution.
However, recovering from a disaster requires critical applications to be restarted and their services restored to users, a process that involves more than simply moving data off site. But bringing large data sets back from a remote site and restarting critical servers can take hours or days to complete. For companies that need recovery times in minutes, or maybe an hour, replicating data to the cloud isn't an effective DR solution.
@pb
There's a relatively new option now available for these organizations, a hybrid cloud disaster recovery (DR) service. An evolution of cloud backup, hybrid cloud DR allows companies to get critical application servers' data off-site as virtual machine (VM) images. These VMs can then be started and run from the cloud, providing a recovery time of minutes at a cost that's more in line with a typical company's budget.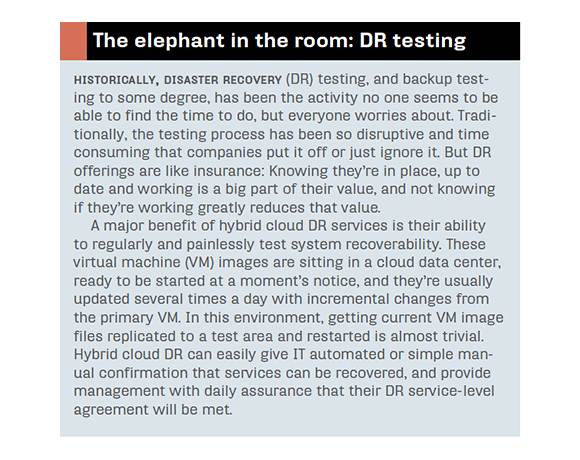 Hybrid cloud for backing up data and servers
Hybrid cloud backup refers to services that use an on-site appliance to collect backups from individual client machines and then handle the transfer of those data sets to the cloud. Most of these appliances combine storage capacity and compute power with a backup application to produce a turnkey replacement for traditional on-site backup infrastructure. With data stored on-site they can provide for restores locally, eliminating the issues of bandwidth and long wait times for restores that "pure" cloud backup services often suffer from.
While a hybrid appliance can address the problems with cloud file restores, it can't help when the data center is under water. For those situations, a cloud disaster recovery service can be an effective and economical solution.
Starting with a hybrid backup appliance, these vendors have added software to convert physical server images to virtual machine images and store them on-site. With embedded compute power as well as storage, the appliance can host these VMs and provide a local high-availability (HA) solution for these servers. On the back end, the appliance transfers its stored VM images to the cloud, which has compute resources available to restart the VMs and run them from the cloud in the event of a disaster. Hybrid cloud DR products use differential technologies and data reduction, as the hybrid cloud backup products do, to improve efficiency and support multiple recovery points.
@pb
Hybrid cloud recovery
The recovery process typically takes only a few minutes and is controlled by the client or managed service provider through a Web portal, similar to the way restores are handled with a hybrid backup product. Users can then run their applications in the cloud until the primary data center is back online, or leave them running in the cloud as hosted applications. When it's time to "fail back" to normal operations, they can synchronize their primary servers with the cloud over the Internet, or have a storage device sent from the cloud provider and do a sync locally.
There are a number of hybrid cloud DR products available today with many more in the works. Adding a DR capability is a natural evolution for hybrid cloud backup providers as is adding a cloud capability for vendors that build dedicated DR solutions for virtual server environments. This is also a service that can be added to a more traditional storage or backup system offering, one that has the ability to run VM images. We'll now describe four examples of hybrid cloud DR offerings.
Axcient Appliance
Axcient Inc.'s Axcient Appliance is installed on-site and provides agentless local backup and restore for computers and servers running in physical or virtual environments. These can be traditional file-based backups, or full server images that are stored locally and then transferred to the Axcient data center (the cloud). The server images are automatically converted locally into virtual machine images that users can run on the Axcient Appliance to ensure business continuity if their production servers fail. Upon replacement of the original server, the image can be failed back, including any changes accrued while running on the appliance.
In 2011 Axcient added the ability to start VMs within the Axcient cloud, completing its hybrid cloud DR solution. Each VM image is incrementally updated with a snapshot technology to create a "reverse incremental" chain of server versions that can be recovered. When a recovery event occurs or as a readiness test, the user logs into the Web portal and selects "virtualize office." This process automatically allocates resources (CPU, memory, connectivity and so on) to support the VM images stored for the user. It also creates a control panel that can be used to configure networking, select servers and versions to recover, and to start the desired virtual machines. According to Axcient, its target customers are smaller and midmarket companies with up to 25 servers. Axcient Appliances are sold exclusively through VARs and MSPs.
@pb
Datto SIRIS
Datto Inc.'s SIRIS appliance provides full agent-based local backup and restore of physical and virtual servers, which are all captured as images and converted into VMDK files for storage on the appliance. These can also be exported and run on a standard ESXi host if desired. These files are replicated on an incremental basis to the Datto cloud (they have data centers in Pennsylvania and California), where they're stored on similar nodes that have the compute and memory resources necessary to host the virtual machines.
When a disaster occurs, users or their MSPs log in to a Web portal to select the servers and versions that need to be recovered, make configuration decisions and start their virtual machines. When the primary site returns to service, users can perform a data merge of the VM images they've been running in the cloud with those at the primary site to capture changed data; alternatively, they can have a portable drive shipped to their site if the changed data set is too large. Testing of VMs can be done automatically, for VM images locally or in the cloud. According to Datto, its market is the small- to medium-sized business (SMB) space, although its largest appliance will support up to 20 servers and multiple appliances can be deployed to scale. The appliances are sold and supported through VARs and MSPs exclusively.
Quorum onQ
Quorum Inc. developed its technology initially as an appliance-based, instant server recovery solution for small to midsized companies, not as a backup solution per se. The Quorum onQ Appliance is a 2U server with up to 12 CPU cores and enough resources to support up to 40 virtual machines or recovery nodes. When implemented, the on-site system creates virtual machine clones of critical servers and stores those images on the onQ Appliance; the images are updated as often as every 15 minutes on the local appliance. If the primary is a physical server, the onQ Appliance does a physical-to-virtual conversion, creating VM images. The onQ Appliance can be deployed as an HA alternative to clustering packages or as a DR offering that's replicated to another onQ Appliance in a remote facility.
In 2011, Quorum added a cloud-based service for off-site replication providing users with enterprise-class data centers (in California and Washington, D.C.) in which to store images and provide the infrastructure to run virtual machines from the cloud. Virtual machine images are kept in a ready-to-run state and failover is a one-step process that takes just a few minutes. Automated, one-step testing is performed daily to provide assurance that updates were successful and that VMs can be restarted. According to Quorum, its primary market is midsized firms with five to 80 servers. Customers can buy onQ Appliances and set up their own DR infrastructure, or engage a VAR for implementation and support.
@pb
Quantum DXi and vmPRO
Quantum Corp.'s DXi deduplication appliance is well established, competing in the midmarket-to-enterprise space with products like EMC Corp.'s Data Domain appliances for a number of years. Recently, Quantum released vmPRO, a software product that installs as a virtual machine in VMware ESXi 4.1+ environments and backs up to Quantum's DXi V1000, a virtual machine instance of the DXi appliance. Together, they provide a scalable, enterprise-level version of the hybrid cloud appliance.
The vmPRO application takes a snapshot of VMs and writes them to the DXi V1000. Working in conjunction with VMware's Changed Block Tracking (CBT), vmPRO reduces the size of the backup set by as much as 75%. vmPRO can also copy VMs in their native format to the DXi appliances where DXi applies its variable-length deduplication to achieve a total data reduction of up to 95%. Leveraging its partnership with Xerox, VM images are then sent to Xerox's cloud data center where they're stored on virtualization hosts, ready to be restored and run until the primary site is returned to service.
Quantum targets midmarket-to-larger companies, typically those running an enterprise backup application often using a disk-based, deduplication appliance. The vmPRO-DXi solution provides an affordable disaster recovery alternative for these companies with the ability to handle data sets into the hundreds of terabytes.
Backup's easy; restoring is hard
In data protection circles, conventional wisdom states that "it's all about the restore." That simply means backups aren't of any real use if they can't be restored to the computers they were taken from in a reasonable time frame. Cloud backup is an excellent example of this concept, one that hybrid cloud backup solutions were developed to address by providing a local copy of backed up data.
In DR circles, the same can be said about recovery. If critical servers can't be restarted within an acceptable window, then getting data off-site with a cloud DR solution only provides a false sense of security. Hybrid cloud DR services are now available to host VM images being stored in the cloud data center, providing an effective and affordable solution.
BIO: Eric Slack is a senior analyst at Storage Switzerland.
Dig Deeper on Disaster recovery planning - management