Share this item with your network: BACKGROUND IMAGE: iSTOCK/GETTY IMAGES
Managing and protecting all enterprise data

vaso - Fotolia
Get started
Bring yourself up to speed with our introductory content.
WAN optimization products still key for DR and cloud access
Modern applications, the cloud and massive amounts of data make WAN optimization more important than ever.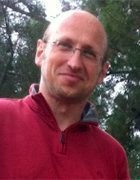 By
Reading and writing data across wide-area networks (WANs) introduces challenges that don't exist when accessing data between systems in the same data center: limited bandwidth, increased and varying latency that rises proportional with the distance between devices, and lessened network reliability resulting in diminished performance and user experience.
Eagle Bank, a regional bank in Everett, Mass., was confronted with the reality of bandwidth limitations when it decided to move a backup EqualLogic array to a disaster recovery (DR) data center 10 miles from its primary Dell EqualLogic SAN. Testing revealed that replication times would soar to 10 days, far exceeding the bank's recovery point objective of eight hours.
The obvious remedy would have been to add bandwidth to the bank's existing WAN circuits, which would have cost an additional $2,500 per month. Instead, the bank's IT manager looked at ways to mitigate the detrimental effects of wide-area networking and maximize existing bandwidth by adding WAN optimization to the existing networking infrastructure. Eagle Bank ended up deploying Silver Peak WAN optimization controllers (WOC) in both data centers with stunning results: replication times dropped to 5.5 hours and average WAN throughput increased from 10 Mbps to 52 Mbps at a fraction of the cost of getting bigger pipes.
No longer just hardware
Since its emergence as a distinct market segment in the late 1990s, WAN optimization has expanded beyond dedicated WAN optimization controllers into applications and infrastructure components that depend on WAN connectivity. For instance, some backup applications, replication products and storage systems now incorporate WAN optimization techniques. While WOCs are still the Swiss Army knives of WAN optimization, supporting the widest range of WAN optimization techniques, WAN optimization in applications and storage systems is more limited to big impact features like compression, deduplication and bandwidth throttling. These implementations are less likely to support protocol optimization, traffic shaping and quality of service (QoS) features that are common in WAN optimization controllers. Finally, some networking vendors are incorporating WAN optimization into their routers, eliminating the need to support yet another device and vendor.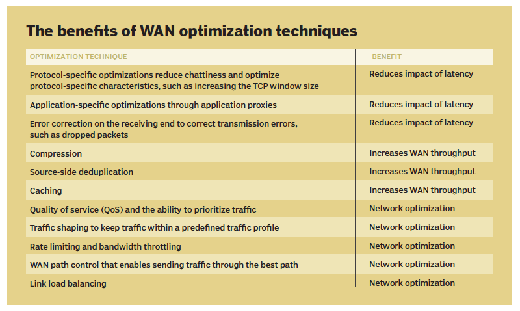 WAN optimization controllers still most versatile
WOCs are still the most versatile method of adding WAN optimization to a storage infrastructure to improve throughput, reduce the effects of latency and increase network reliability. They're usually deployed symmetrically with a WOC on both ends of the connection; they're also available as hardware appliances and virtual appliances with virtual machine (VM) images that can be downloaded and deployed to supported hypervisor hosts.
One of the primary use cases of WOCs is data center-to-data center replication to maximize the use of available bandwidth of circuits between the data centers. Data reduction techniques like compression and deduplication virtually increase the available WAN bandwidth by many multiples, maximizing the return on investment of expensive WAN circuits. The other relevant use case for WOCs is branch office-to-data center data and application access acceleration. That implementation enables users in satellite offices to access remote data and applications with a user experience similar to accessing them locally. It reduces the need to deploy and support storage systems in smaller branch offices resulting in substantial cost savings. Protocol optimization, traffic shaping, QoS, controlling traffic across multiple networks, caching, deduplication and compression are some of the techniques employed by WOCs to overcome latency and limited bandwidth, and to speed up access to remote data and applications.
The list of vendors offering WOC products has grown since early devices first emerged. Among the leading vendors are Riverbed, Cisco, Silver Peak Systems, Citrix and Blue Coat Systems. According to a Gartner report, Riverbed leads the WOC market with its SteelHead and SteelFusion (formerly Granite) physical and virtual appliances, offering a broad set of capabilities and a large number of application proxies that include MAPI and SQL. Silver Peak, with its NX physical appliances and VX/VRX virtual appliances, stands out for data center-to-data center data replication use cases, and is used by many corporations to accelerate branch office-to-data center application and data access. Cisco delivers wide-area application services (WAAS) in its Integrated Services Router (ISR) for branch offices and Aggregation Services Router (ASR) for WAN aggregation in centralized data centers.
"We believe that WAN optimization services shouldn't be a separate product but should be part of edge routers," said Michael Dickman, Cisco's director of product management for enterprise WAN. Delivering WAN optimization as part of an edge router is generally more cost-effective than deploying WOCs in addition to routers in branch offices, and it results in simpler and easier to manage networks.
WAN optimization for the cloud
The growing adoption of cloud storage and computing services by enterprises requires WAN optimization products that support data and applications in the cloud. Today, companies leverage the cloud for two primary use cases, with each requiring a slightly different wide-area service acceleration approach:
Software as a service (SaaS) and platform as a service (PaaS)
Infrastructure as a service (IaaS)
SaaS and PaaS. An increasing number of companies favor running certain applications in the cloud rather than on the premises. Salesforce.com for customer relationship management, ServiceNow for IT and enterprise service management and Workday for human resources are prime examples where running these application in the cloud rather than on the premises is often preferred. Additionally, some of these vendors, namely Salesforce.com and ServiceNow, provide PaaS capabilities that enable customers to develop new applications on their cloud platforms. Protocol optimization of both HTTP and SSL, bandwidth management and WAN path controllers that send traffic through the optimal path are key techniques to speed up access to cloud applications. Since deploying an acceleration appliance at a SaaS vendor may not be an option, cloud application acceleration devices are usually deployed in asymmetric fashion.
IaaS. Amazon Web Services (AWS), Microsoft Azure, Google Cloud Platform and VMware vCloud Air are the leading IaaS offerings, enabling companies to run their infrastructure in the cloud. WAN acceleration to infrastructure in the cloud can be accomplished in a couple of ways. To start with, WOC vendors are offering virtual appliances that run on the cloud infrastructure of IaaS vendors. For instance, the Cisco Cloud Services Router (CSR) supports all major IaaS vendors and is able to extend on-premises ISR and ASR wide-area application services. Similarly, Silver Peak VX software instances can be deployed in AWS to build the Silver Peak Unity intelligent WAN fabric, which unifies the enterprise WAN with the Internet and public cloud.
The other way to accelerate access of IaaS environments is via a gateway that's placed on the customer's premises. Most of these gateways focus on accessing cloud storage and are offered by both IaaS vendors and third-party vendors. For instance, the AWS Storage Gateway connects an on-premises software appliance with cloud-based storage to provide seamless, secure and accelerated integration between an organization's on-premises IT environment and AWS's storage infrastructure. Microsoft StorSimple Hybrid Cloud Storage enables keeping active data on the premises while it deduplicates and compresses data that's moved into the cloud. Riverbed's SteelStore (formerly Whitewater) and Nasuni are among the third-party vendors offering cloud gateways.
WAN optimization in storage and data protection products
WAN optimization can be found in data replication products and replication components of storage systems. Data reduction techniques such as deduplication and compression, as well as bandwidth throttling, are the prevailing techniques used by replication products to maximize available WAN bandwidth and minimize the impact of replication traffic on users and other applications.
EMC RecoverPoint is an example of a replication solution with WAN optimization that enables users to replicate production data from a storage system in one site to a different storage system at another site over IP. Replication features in high-end storage systems like Symmetric Remote Data Facility (SRDF) for EMC VMAX and NetApp's SnapMirror for asynchronous replication and NetApp MetroCluster for synchronous replication include WAN optimization features that reduce the impact of limited bandwidth and high latency. EMC Vplex uses a range of network optimization techniques, including advanced caching to minimize the effect of latency, and distributed cache coherence to deliver virtual storage that spans multiple data centers.
Most major data protection products implement WAN optimization techniques to minimize the impact of backup jobs on the network. Source-side deduplication -- deduplicating data at the source before it is sent across the network -- has become a must-have feature in contemporary backup solutions. Data protection products differ in the scope of deduplication; some vendors deduplicate across all data in the repository, while others limit the deduplication scope.
"Our source-side deduplication is per backup job, and a single backup job could include many [virtual machines] VMs," said Doug Hazelman, vice president of product strategy at Veeam.
WAN optimization can offer solid ROI
Global corporations and an increasingly distributed application and data landscape make fast and reliable WAN and Internet connectivity prerequisites for doing business. WAN optimization products that maximize available bandwidth, reduce the impact of latency and increase network reliability are becoming enablers. Money saved on bigger network connections, and productivity gains from users enabled to work more efficiently, make the ROI of WAN optimization products relatively straightforward.
The effectiveness of WAN optimization products depends on your application and system landscape, as well as your user distribution and profiles, so evaluation, measurement and planning are instrumental in selecting the right product and deployment model to maximize the benefits of WAN optimization.
About the author:
Jacob N. Gsoedl is a freelance writer and corporate VP of IT Business Solutions. He can be reached at jacobslab@live.com.
Dig Deeper on Disaster recovery facilities - operations