Sergey Nivens - Fotolia
Storage pros confident their business disaster recovery plan will work
Disaster recovery is about more than the duplication of enterprise data in an emergency, it's about getting the applications, servers and storage up and running quickly as well.
Disaster recovery planning is one of the most important -- and toughest -- responsibilities of storage managers today. And, as the ability to get precious data, applications and servers up and running quickly after a major outage or interruption is essential to business success, it is fortunate most organizations take the many factors involved in developing and implementing a solid business disaster recovery plan seriously.
Forty-one percent of respondents are only concerned with protecting their mission-critical apps, but more than a quarter (26%) don't take any chances and include all company applications in their business disaster recovery plan, while a substantial number (67%) do so for, at minimum, mission-critical software. In terms of data, a little more than a third of respondents said they would need to quickly recover less than 10 TB of data, while 24% bumped that number up to 10 TB to 49 TB. Eleven percent answered 50 TB to 99 TB, and the remainder chose between 100 TB to a remarkable 10 petabytes or more, at various single-digit percentage levels -- including 7% who have the herculean task of recovering 1 PB or more of data.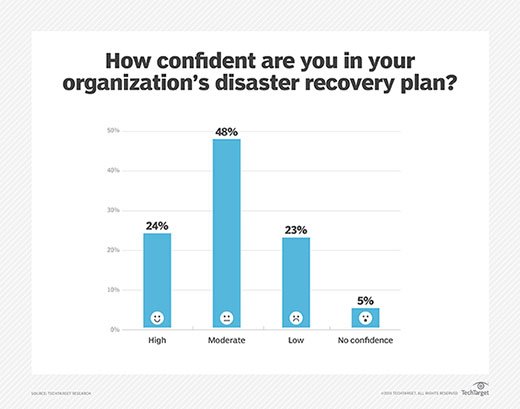 Although a significant number of companies only have to plan on recovering applications and data from a single location or data center, a majority must do so for multiple physical locations (60%) and data centers (51%). Gauging the scope of a disaster recovery (DR) effort by number of servers, more than two-thirds intend to duplicate processes, data and applications running on up to 99 physical or virtual servers, while 13% and 21%, respectively, need to do so at the 100 to 499 server level. A very small -- and unlucky -- percentage (2%) of respondents have to protect more than 5,000 virtual servers with their business disaster recovery plan.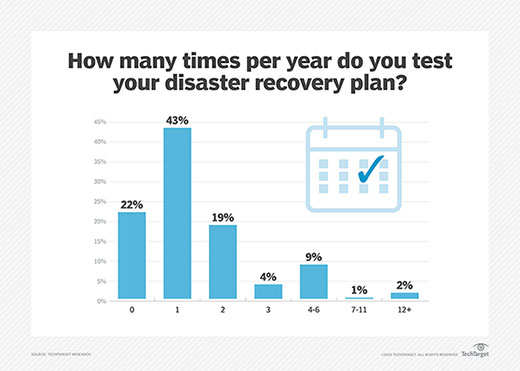 With much in the way of data, applications, locations and data centers to consider, it's a good thing a majority of those surveyed (72%) have confidence in their DR plan. Most aren't so overconfident that they don't test their business disaster recovery plan, however. Nearly half (43%) do so once a year, while a little more than a third (35%) put their plan through its paces multiple times per annum.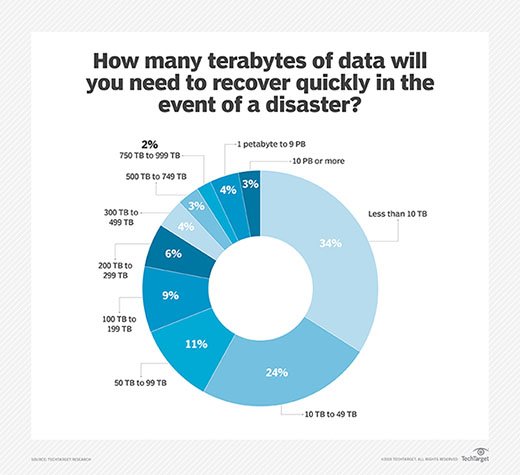 Unfortunately, this leaves 22% that do not test their business disaster recovery plan regularly at all. That's a surprisingly high number considering how easy it is to test a plan using cloud DR. Testing is a small price to pay considering the grief they'll face -- and the negative effect it'll have on business -- should the company have to put its DR plan into effect, only to find it doesn't work properly, if at all.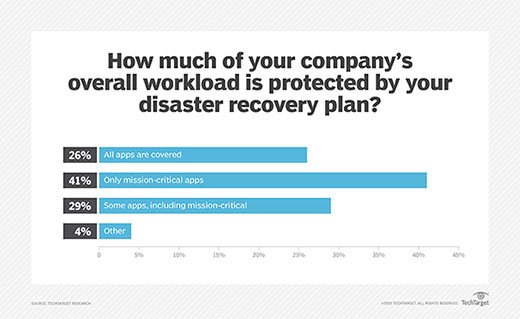 The top five features respondents find most critical when evaluating DR products and services are compatibility with virtual servers, scalability, compatibility with existing backup and storage infrastructure, ease of use, capacity, and autonomy and the ability to control your own data, in that order. Interestingly, only 34% included disaster recovery as a service (DRaaS) as part of their DR planning. This is somewhat surprising considering DRaaS is the hottest thing in disaster recovery nowadays.
Next Steps
Make the case for a DR plan
SMB DR planning strategies
Build a disaster recovery plan for your small business
Dig Deeper on Disaster recovery planning - management