Tom Wang - Fotolia
Need a business disaster recovery plan? You're not alone
Many companies either don't see the need for a business disaster recovery plan or haven't allocated enough resources to create a good DR plan.
Bob Dylan once sang, "You don't need a weatherman to know which way the wind blows," but massive snow storms, annual hurricanes, earthquakes and plagues of locusts haven't convinced some companies that they should have a disaster recovery (DR) plan in place. In our latest survey, just slightly less than a third of respondents still don't know which way the wind blows, as they fessed up to not having a business disaster recovery plan. That leaves them vulnerable to the above-mentioned meteorological misfortunes, but also to someone tripping over their SAN array's power cord or Bob the server admin spilling his latte on that 24-core server hosting half the company's VMs.
At least most disaster recovery plan-less companies are aware of their shortcoming. Thirty-nine percent say they're developing a plan now -- which is kind of like the old "check is in the mail" excuse. And speaking of checks, 26% say they simply lack the funds to put together a plan -- which seems to be a lot better excuse than the "haven't gotten around to it" explanation volunteered by 29% of respondents.
On the flip side, companies that have made an investment in a disaster recovery plan for their business -- and have hopefully tested it -- feel pretty good about the recovery strategies they've developed. Forty-one percent rated their confidence level as "high" that their plans would work in an emergency situation, and another 49% expressed "moderate" confidence in their plans. Only 2% said they have "no confidence" in their business disaster recovery plan, and we assume they're also updating their resumes.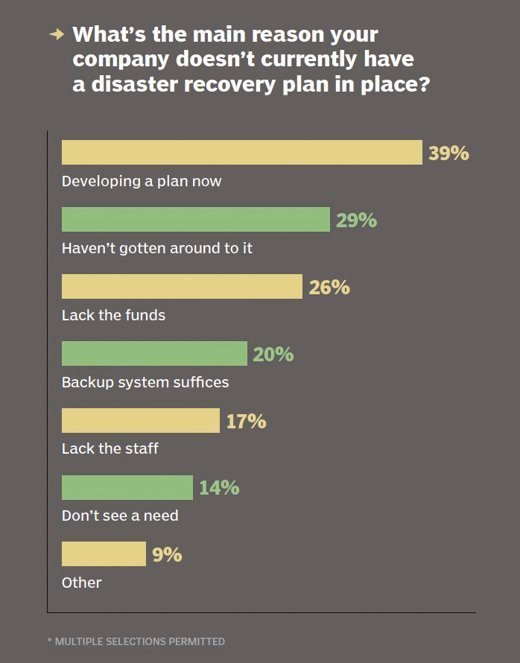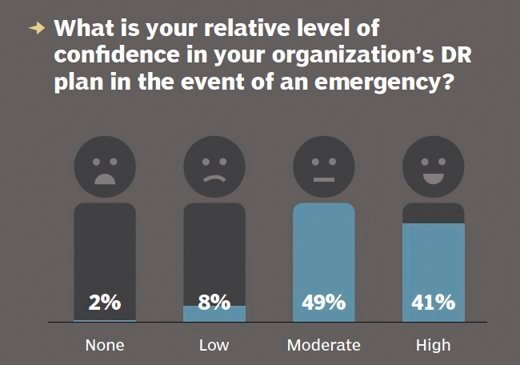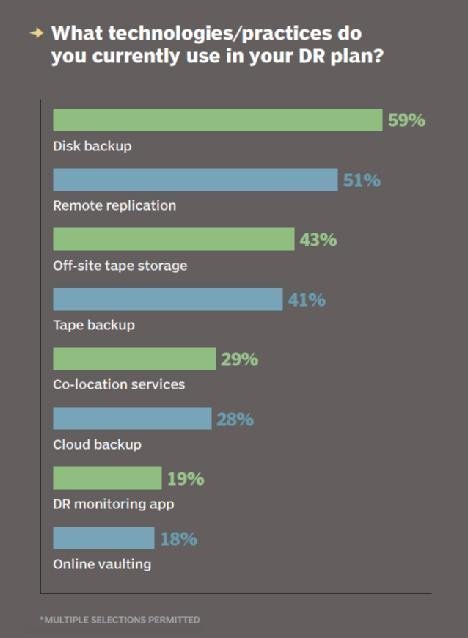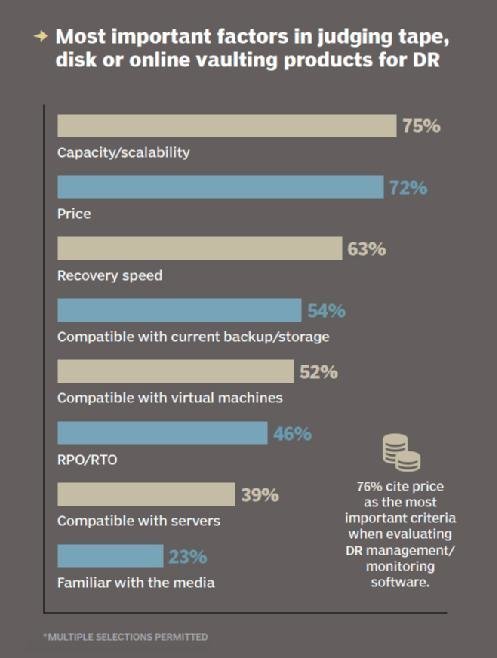 It's not a big surprise that the most-used tech tool for DR is disk-based backup, followed closely by remote replication that ships those backups to a remote recovery site. While those two techs top the popularity list, a technology that has been reputed to be dead for years takes the next two places: tape. Forty-three percent said their plans include the use of off-site tape storage, while 41% just cited "tape backup" as a component of their recovery plans. Cloud-based DR -- possibly the biggest buzz in the disaster recovery world these days -- was represented by 28% who said they tap cloud backup services for disaster recovery readiness.
Dig Deeper on Disaster recovery planning - management