vaso - Fotolia
DR plans are common, but disaster recovery tests remain uneven
Though most companies have DR plans in place, confidence in their disaster recovery testing in an emergency remains uneven.
Preparing for possible data center-crippling disasters has always been a difficult chore -- tough enough that some companies simply back-burner their disaster recovery plans and hope no disruptive events occur. Of course, not having some form of DR plan in place -- at least for critical applications -- is just asking for trouble. According to our latest survey data, nearly one-third of companies are rolling the dice as they don't have a DR plan in place.
Among the two-thirds of surveyed companies that do have DR plans, 41% rate their confidence levels as "high" if they have to invoke their plans in the event of emergency. Nearly half (49%) say they are moderately confident about their plans, but they probably still have their fingers crossed. Eight percent say their confidence is low, and the remaining 2% (no confidence) are probably working on their resumes.
A lot of companies -- 60% -- trim their disaster recovery plans down a bit by only including their mission-critical apps for recovery. It's a good approach when you don't have the resources to ensure timely recovery of all apps -- just get the key applications that the company relies on up and running. But no matter how lean your DR plan is, it still needs to be tested from time to time to ensure that it will work as expected. Fifty-seven percent run disaster recovery tests on those plans at least once a year; 28% don't have a set schedule and 4% never test it (they're working on their resumes, too).
For companies that plan on making purchases to build out their DR readiness, disk backup systems, cloud backup services and remote replication top the list. Interestingly, 34% have recently added, or are considering adding, some tape capability to their DR arsenals. So maybe tape isn't all that dead after all. The companies currently involved in DR projects are generally looking to upgrade their current plans: 68% want to improve recovery time and 66% are looking to make their current plans more efficient.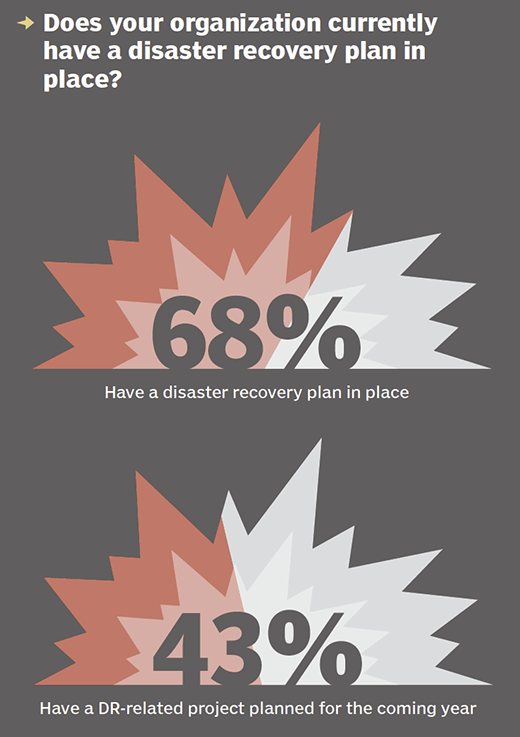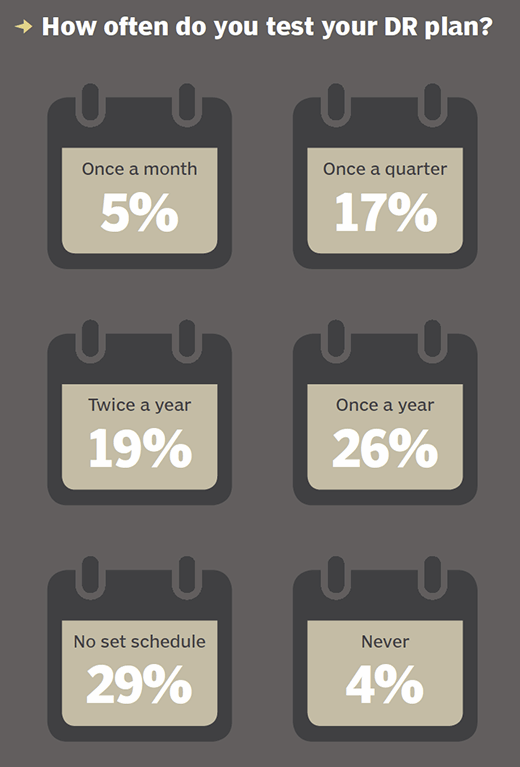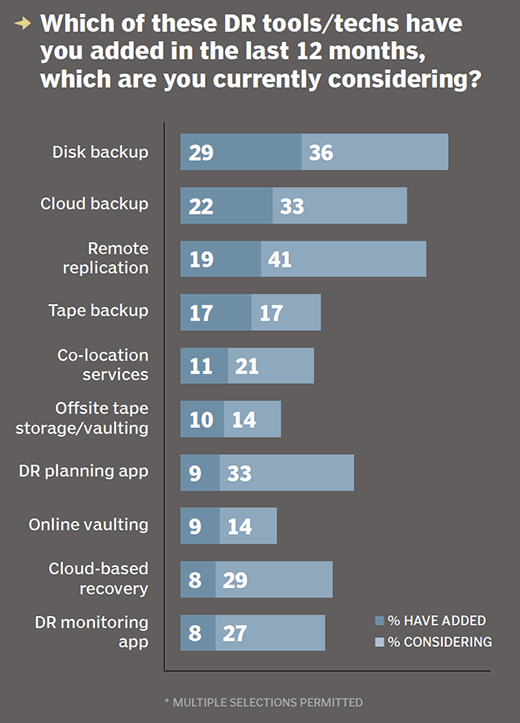 One thing hasn't changed much for DR: when it comes to shopping for the parts and services to be used in disaster recovery plans, 72% say price is the most important factor.
Next Steps
Free disaster recovery planning template
Ten must-haves for your disaster recovery plan
Give your DR plan a boost
Dig Deeper on Disaster recovery planning - management