Manage
Learn to apply best practices and optimize your operations.
Big pay for storage jobs, page 4
Find out what other storage professionals are being paid in this year's salary survey.
More storage, more people, more money (continued from page 3)
As noted earlier, bigger is better when it comes to company size and storage salaries, but size matters in other respects, too. The amount of storage you manage is likely to affect your paycheck's bottom line (see "Average salary by storage capacity managed"). The average salary for respondents responsible for less than 1 terabyte (TB) is $66,077, and this figure rises steadily to $91,467 for those with more than 500 TB on their plates. Respondents who don't manage any storage averaged $80,500. It may seem like an odd twist that these folks make more than those overseeing up to 99 TB of storage, but the group likely includes management types who no longer have direct management responsibilities over installed storage systems.

Responsible for more than 100 TB of installed storage, PharmaCare's Bartels manages a team of eight people, three of whom are dedicated to storage. When Bartels needed to add a storage person to his staff, he didn't have much trouble finding local talent. "I think it's relatively easy in the Pittsburgh market," he says. "I had about three [people] who were qualified and as many as a dozen submissions for that job."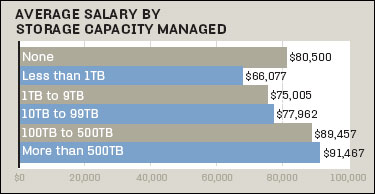 But outside of major urban areas, finding qualified storage workers can be tough. "The University of Florida is right here," MacKay says, "so what you get is a glut of young guns on the market who are willing to work for nothing." That tends to hold down salaries and drive more experienced people to seek employment in the state's larger cities.
The number of direct reports a manager has counts as much as the number of managed terabytes in determining storage salaries. In all cases, managing more people translates into pulling down bigger bucks. Managers of one to five people earned an average salary of $77,788 in our survey. Increase staff size to six to 10 people, and pay climbs by about 11%; up that compensation by an additional 13% when managing 11 to 20 staffers, with a top end of $105,308 for respondents who manage 21 to 50 people.
Dig Deeper on Disaster recovery planning - management