Manage
Learn to apply best practices and optimize your operations.
Why you should have a disaster recovery testing plan in place
If you're implementing a DR strategy, but are thinking about skipping the disaster recovery testing plan phase, think again. This guide dives into why the testing process is vital, and how it strengthens DR efforts.
Introduction
You've created a thorough, efficient and reliable disaster recovery plan that will protect your organization's data from potential disasters, ranging from weather-related outages to ransomware. That means you're done, right? Not exactly.
The next big step should be implementing a disaster recovery testing plan that ensures your recovery efforts work correctly and meet expectations. Disaster recovery testing can clue you in if the plan isn't meeting recovery point objective/recovery time objective requirements, and enable you to make the necessary changes to get things back up and running quickly. A DR test can also point out vulnerabilities that may need to be addressed.
How frequently you need to test will differ from company to company, but experts agree that regular DR testing is the best way to validate a disaster recovery plan and keep it up to date. Some organizations may test once a year and find that sufficient, depending on their environment. But it's important to make time for testing when there are changes to the infrastructure that could affect the recovery process.
When considering the benefits of DR plan testing, you might wonder what could keep an organization from regular testing. In the past, disaster recovery testing could be a much more laborious, invasive process that involved outages during testing. However, the wide range of recovery tools available today means there is little effect on operations during testing.
With the links below, gain a better understanding of why a disaster recovery testing plan is important, how to conduct your testing efforts, and some tools and terms that you will encounter along the way. We've also included some free, downloadable templates to guide you through the process from start to finish.
1

Benefits

-
Do I need to test my DR plan?
Short answer? Yes. For the longer answer, check out the links below. Chief among the benefits of testing is the ability to ensure your plan is working, but that's far from the only reason to run a test of your DR plan. When done properly, a disaster recovery testing plan can keep your recovery strategy updated and even prevent major outages in the future.
2

Best practices

-
Streamline the testing process
Now that you're settled in for testing, there are a number of best practices and tips for conducting the process in a way that works best for your organization. The links below offer advice for building a comprehensive disaster recovery testing plan or strengthening the one you have.

Download this free guide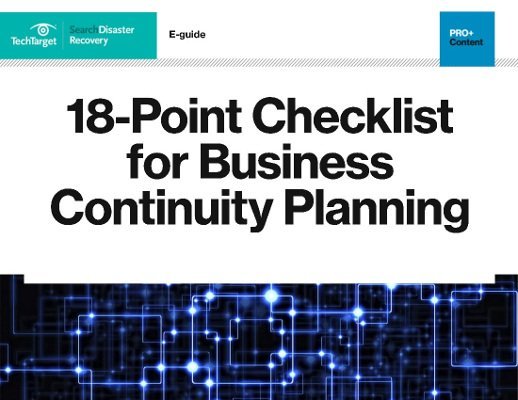 Download: Complete your actionable BC/DR plan in 11 steps
Download your checklist for completing an actionable business continuity (BC) plan—with this all-in-one, ready-to download PDF containing 7 BC planning mistakes to avoid and 11 steps to ensure sure-fire continuity.
3

On the market

-
Tools that can help
Testing a DR plan doesn't have to be a chore. There are a number of technologies available that can help ease the process and make testing a breeze.
4

Templates

-
Put these practices to use
Download our free templates to see outlines for testing and planning scenarios. Each template provides a thorough outline of what to do to prepare for a data disaster, but can be customized to suit your organization.
Feature
This disaster recovery (DR) plan template offers step-by-step procedures to restore disrupted systems and applications to recover quickly from a disaster. Continue Reading
Feature
Download our free data center disaster recovery plan template and read our guide on disaster recovery and business continuity planning. Continue Reading
Feature
These business continuity and disaster recovery testing templates provide a concise methodology to deploy BC/DR plans and tests. Continue Reading
5

Glossary

-
Related terms to know
If you're still a little unsure about some of the technologies or processes referenced in this guide, or just looking for a refresh, this glossary of common terms can help.