PRO+

Premium Content/E-Books
Thank you for joining!
Access your
Pro+

Content below.
July 2014
Overcome today's disaster recovery challenges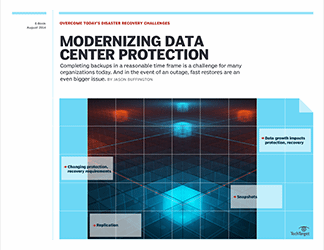 The use of devices not connected to a local network is a challenge for IT staffs tasked with protecting data on those devices. Completing backups within a reasonable timeframe has become an issue for organizations. Some organizations are opting for alternatives to traditional backup to address these challenges. The cloud has been pushed as an alternative to tape for offsite storage for disaster recovery. However, there are challenges with this approach and with protecting applications running in the cloud.
CHAPTERS AVAILABLE FOR FREE ACCESS
Today's workforce is increasingly mobile and BYOD has taken hold in many organizations. The use of devices not connected to a local network is a challenge for IT staffs tasked with protecting data on those devices. While mobile and cloud platforms are relatively new, data centers have been under the watchful eye of IT professionals for decades; so why is "backup" not solved yet?

There are at least two primary reasons that even data center data protection continues to challenge IT: changes in workload recovery requirements and workload protection mechanisms; and the sheer amount of production and protection storage required. This chapter will look at the challenges that exist -- protection and recovery requirements are changing, data growth is forcing changes in protection and recovery, snapshots and replication -- and offer best practices and the technologies designed to mitigate them.

Download

The decentralization of data among endpoint devices has been a game-changer for IT professionals. After decades of delivering consolidated infrastructure platforms, i.e., servers, there has been an increased distribution of data as end users demand enhanced flexibility in the devices they are using in the workplace. Don't confuse endpoint and BYOD -- today's endpoint devices include self-purchased, bring-your-own-device units, but also an immeasurable number of corporate-issued devices.

This e-book will look at the challenges of legacy endpoint mechanisms, why endpoint data protection is more important than protecting the device itself, and the two mandates to ensure successful endpoint data protection: lightweight delivery and management that is highly visible. It will also examine why the endpoint data protection mechanism must give the employee and employer access to needed data.

Download

When discussing the modernization of IT, the conversation usually begins with the cloud. Even when it doesn't start with the cloud, the dialogue often ends up there. Yet, there are issues that must be considered when discussing data protection and disaster recovery in the cloud.

Some IT admins will replace their legacy backup product with a backup service. Others will supplement their backup product with cloud storage. Still others will add cloud-based DR to their on-premises backups. And, finally, some struggle with balancing their primary production workloads that have moved to the cloud.

This chapter looks at backup as a service, which may be a good option for organizations struggling with their legacy backup product. It investigates when cloud-based storage should be leveraged and when to adopt a hybrid architecture, as well as backing up storage as a service.

Download