Definition
mass notification system (MNS)
A mass notification system (MNS) is a platform that sends one-way messages to inform employees and the public of an emergency. Organizations best served by a mass notification system include fire and police departments; emergency management organizations; federal, state and local governments; cities and communities; building owners and building management companies; and businesses that can justify its need and investment. Such systems can improve the safety and security of an organization by providing alerts and real-time instruction during a crisis.
Mass notification systems have a database of names, phone numbers, email addresses and delivery methods. Emergency notification software must have a strong communications infrastructure with enough bandwidth to deliver thousands of messages. People and organizations can be contacted via prerecorded phone calls, text messages, emails and social media. Human action can activate an MNS, as can sensing devices such as smoke or gas detectors and specialized task-specific systems for such things as security.
Content Continues Below

Download this free guide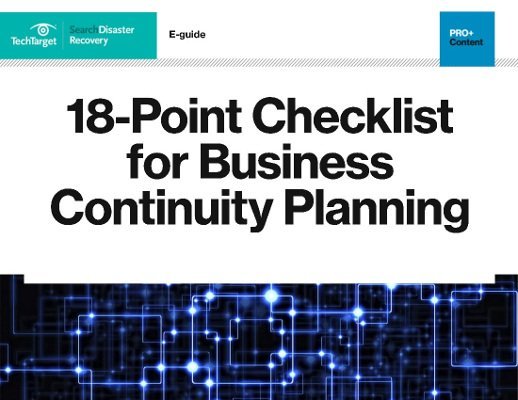 Download: Complete Your Actionable BC/DR Plan in 11 Steps
Download your checklist for completing an actionable business continuity (BC) plan—with this all-in-one, ready-to download PDF containing 7 BC planning mistakes to avoid and 11 steps to ensure sure-fire continuity.
When to use a mass notification system
While an MNS will only send outbound messages to a database list, emergency notification systems can both transmit and receive communications. MNS planning should include the following tasks:
verification that one is needed through an analysis of requirements;
confirmation the organization has the proper systems and infrastructure to handle such a system;
time to develop the database, user training, systems management and maintenance procedures; and
frequent testing of its capabilities.
The National Fire Protection Association's National Fire Alarm and Signaling Code (NFPA 72) provides general guidelines on planning, designing and implementing an MNS that is activated when a fire alarm sounds. Among the code's mass notification system recommendations are that a risk analysis should consider the following types of potential emergencies:
Geological events
Meteorological events
Biological events
Accidental human-caused events
Intentional human-caused events
Technological events
MNS vendors: What to look for
Ask vendors about planning, installation and training, as well as requirements around power and backup power. Mass notification systems facilitate one-way communications to recipients, while emergency notification systems typically allow for responses. When deciding between the two, organizations should decide which form of communication is required.
When evaluating mass notification systems, the following checklist from independent IT consultant Paul Kirvan can help:
Verify that an MNS is needed and conduct an analysis of your requirements. Determine the minimum and maximum number of people and organizations to be contacted, as well as the initiation devices and message delivery options.
Prepare a request for information or request for proposal.
Find out if existing technology may have features that can be used for outbound emergency notification.
Ask vendor references if they had any problems during planning, installation, training and post-cutover operations.
Confirm the vendor offers electronic and hard-copy system documentation, and store copies in multiple secure locations.
Ensure you have an available server, power supply, backup power system and sufficient horsepower to handle the system and its database.
Certify that your network infrastructure has sufficient bandwidth to handle the bursts of traffic a mass notification system can generate during an emergency.
Allow sufficient time when preparing your project plan to develop the database, user training, system management and system maintenance.
Incorporate the system in all exercise activities.
Regularly check MNS capabilities via test calls; conduct occasional, large-scale blasts of notification messages.
Pricing will vary depending on the vendor and complexity of the system, but basic systems can range from $1,000 to $2,000, as well as annual fees.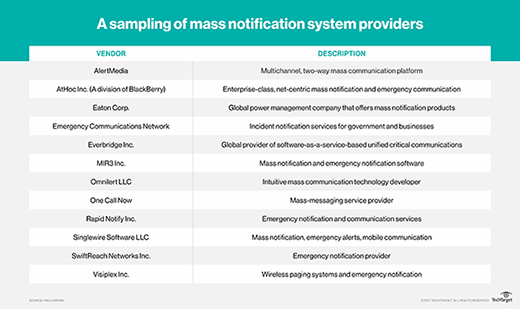 Mass notification system testing
As with any other security or disaster recovery plan, mass notification systems require rigorous testing. Organizations must balance the risk of not testing frequently enough and being ill-prepared with testing too much and possibly causing recipients to ignore the communications.

Most emergency notification software will collect data and recipient feedback after tests, to discover what worked and did not work during the tests.
Pros and cons of mass notification systems
Mass notification systems provide recipients with vital information and early warnings to allow them to better prepare for an impending disaster. For example, in the 2011 earthquake in the Tōhoku region of Japan, millions of people were provided with emergency notifications over the radio, television and mobile phones. Landline and mobile networks were disrupted in many areas, but the internet was still available for crisis communications.
Mass notification systems are constantly evolving to meet changing technological needs. Unfortunately, many of these updates are implemented following a disaster in which there was a failure in the MNS design.
A push to update NFPA 72 to address mass notification and emergency communications systems beyond fires was driven by a number of fatal incidents, such as the Virginia Tech massacre in 2007, where no emergency notifications were sent until over two hours after the event. The Department of Defense, through the U.S. Air Force, first petitioned the NFPA to develop a standard on mass notification in 2003. NFPA 72 was most recently updated in 2013.
How an MNS fits into a BC/DR plan
In terms of business continuity and disaster recovery (BC/DR), a mass notification system plays a big role in protecting organizations from complete data loss and businesses from coming to a standstill. Emergency notification software should alert management to a problem as soon as possible and, if necessary, inform the fire department or other emergency personnel. The system can also inform employees as to when it is safe to return to work.
Incorporating mobile communications into a crisis communications plan can aid BC/DR efforts. Organizations may ask certain employees to take pictures or videos with mobile phones for post-disaster analysis.
If BC/DR is managed through a third party, that vendor may have its own app that employees can access for such services.
This was last updated in
March 2017
Continue Reading About mass notification system (MNS)
Dig Deeper on Disaster recovery facilities - operations