Definition
Disaster Recovery as a Service (DRaaS)
Disaster recovery as a service (DRaaS) is the replication and hosting of physical or virtual servers by a third party to provide failover in the event of a man-made or natural catastrophe.

Download this free guide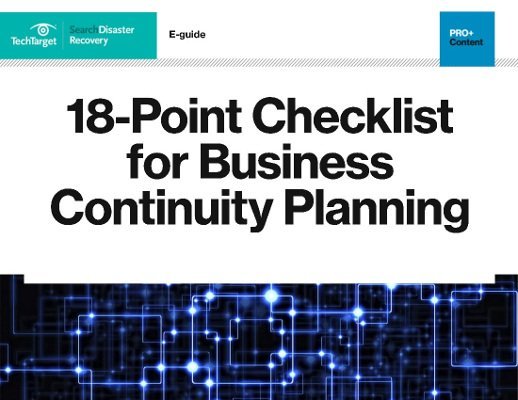 Download: Complete Your Actionable BC/DR Plan in 11 Steps
Download your checklist for completing an actionable business continuity (BC) plan—with this all-in-one, ready-to download PDF containing 7 BC planning mistakes to avoid and 11 steps to ensure sure-fire continuity.
Typically, DRaaS requirements and expectations are documented in a service-level agreement (SLA) and the third-party vendor provides failover to a cloud computing environment, either through a contract or on a pay-per-use basis. In the event of an actual disaster, an off-site vendor is less likely than the enterprise itself to suffer the direct and immediate effects, which allows the provider to implement the disaster recovery plan even in the event of the worst-case scenario: a total or near-total shutdown of the affected enterprise.
DRaaS advantages and disadvantages
With disaster recovery as a service, the time to return applications to production is reduced because data does not need to be restored over the internet. DRaaS can be especially useful for small and medium-sized businesses that lack the necessary expertise to provision, configure and test an effective disaster recovery plan. Using DRaaS also means the organization doesn't have to invest in -- and maintain -- its own off-site DR environment.
The biggest disadvantage to DRaaS is that the business must trust its service provider to implement the plan in the event of a disaster and meet the defined recovery time and recovery point objectives. Additional drawbacks include possible performance issues with applications running in the cloud and potential migration issues when returning applications to a customer's on-premises data center.
DRaaS vs. backup as a service (BaaS)
DRaaS fails over processing to the cloud so an organization can continue to operate during a disaster. The failover notice can be automated or manual. The DRaaS operation remains in effect until IT can repair the on-premises environment and issue a failback order.
In backup as a service, an organization decides which files it will back up to a BaaS provider's storage systems. The customer organization is also responsible for setting up its RPO and RTO service levels, as well as its backup windows. A BaaS provider is only responsible for data consistency and restoring backed up copies of data.
How to pick a DRaaS provider
If you determine DRaaS is the right approach to disaster recovery planning for an organization, there are some important questions to consider, according to analyst George Crump:
What percentage of customers can the service provider support concurrently during a regional disaster such as a hurricane?
What DR resources are available for recovery?
How does the provider manage, track and update these resources?
What happens if the provider cannot deliver DR services?
What are the rules for declaring a disaster?
Is it first-come, first-served until resources are maxed out?
What happens to customers who cannot be serviced?
How will users access internal applications?
Will virtual private networks be managed or rerouted?
How does a virtual desktop infrastructure affect user access and who manages it during disaster recovery?
How will customers, partners and users access outward-facing applications?
Will domain name system nodes be updated for outward or customer-facing applications?
How do you ensure administrators and users receive access to servers/applications?
What are the procedures for failback?
What professional services, skills and/or experiences are available from the service provider to facilitate disaster recovery and how much do they cost?
How much help can be expected in a DR event?
What are the DRaaS provider's testing processes?
Can customers perform their own testing?
How long can a customer run in the service provider's data center after a disaster is declared?
What are the costs associated with the various disaster recovery as a service options?
Are they a la carte, bundled or priced upfront?
Is there a mix of upfront and recovery event costs?
Some examples of disaster-recovery-as-a-service providers in the market include Acronis, Amazon Web Services, Axcient, Bluelock, Databarracks, EVault, IBM, iland, Infrascale, Net3 Technology, Peak 10, Quorum, RapidScale, Sungard Availability Services (AS), Unitrends, Verizon Communications, VMware, Windstream Communications and Zerto.
This was last updated in
January 2017
Continue Reading About Disaster Recovery as a Service (DRaaS)
Dig Deeper on Disaster recovery services - outsourcing