Definition
network disaster recovery plan
A network disaster recovery plan is a set of procedures designed to prepare an organization to respond to an interruption of network services during a natural or manmade catastrophe.

Download this free guide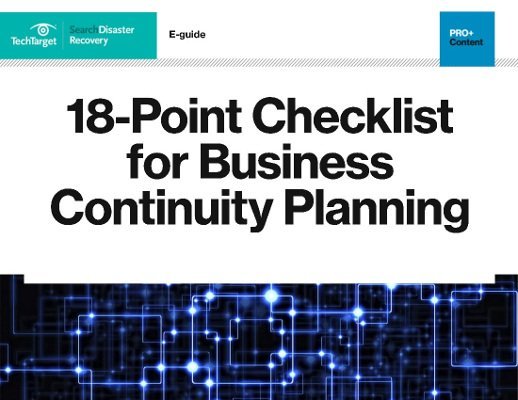 Download: Complete your actionable BC/DR plan in 11 steps
Download your checklist for completing an actionable business continuity (BC) plan—with this all-in-one, ready-to download PDF containing 7 BC planning mistakes to avoid and 11 steps to ensure sure-fire continuity.
Network disaster recovery planning also provides guidelines for restoring network services and normal operations following a disaster. The plan outlines resources needed to perform network recovery procedures, such as suppliers for equipment and critical document storage, as well as the importance of maintaining off-site backups and the responsibilities of key staff members and departments in case of an emergency. The plan spells out responses unique to specific disaster events, such as a fire, flood or earthquake.
A network disaster recovery plan also identifies specific issues or threats related to an organization's network operations, including interruptions due to loss of voice or data connectivity as a result of network provider problems or disasters caused by nature or human activities.
Like any other disaster recovery plan, the procedure includes information for contacting key staff members in case an emergency occurs off-hours, such as late at night or on weekends. The plan should be periodically reviewed, practiced by staff and updated as needed, since technologies or the potential threat of specific hazards could change over time.
Continue Reading About network disaster recovery plan
Dig Deeper on Disaster recovery planning - management