Eclipse Digital - Fotolia
How has IT continuity planning changed with cloud technology?
Despite business disaster recovery planning shifting to the cloud, historically crucial elements of legacy DR, such as location and testing, are still important.
In the last couple of years, we have moved away from a passive approach to IT continuity planning -- storing tape...
Continue Reading This Article
Enjoy this article as well as all of our content, including E-Guides, news, tips and more.
data off site and recovering from a failure by finding a new compute facility and restoring the tapes -- to a much more active model. Cloud backup is the first step in the transition, with on-premises and off-site tape giving way to online cloud storage.
The simplistic cloud backup approach leaves us with the dilemma of where to recover. We still need to find a home where applications can run and be able to get data to them. With WAN speeds still woefully behind LAN performance, uploading data to the recovery site can take days.
The obvious answer is to move the apps to the data by running the recovery in the cloud. This IT continuity planning method may be easier said than done, since effective performance generally requires apps to be cloud ready, making them suitable for multi-instance operation. Cloud-based recovery is very difficult for so-called legacy apps, especially COBOL programs running on mainframes.
An intermediate step toward full cloud recovery might be to contract for a standby arrangement at a telecommunications facility. These usually have very fast fiber links to the major cloud data centers and also have mainframe gear available. This would reduce data access latencies to an acceptable level.
Drive-based storage in the cloud
Another major change in both backup and IT continuity planning is the use of disk or solid-state drives by the cloud vendor, rather than tape. Recovery from a backup, or even a disaster, may involve only the recovery of a few files. Searching tapes is extremely time-consuming; drive-based storage in the cloud allows individual files to be pulled rapidly, changing the way recovery is done.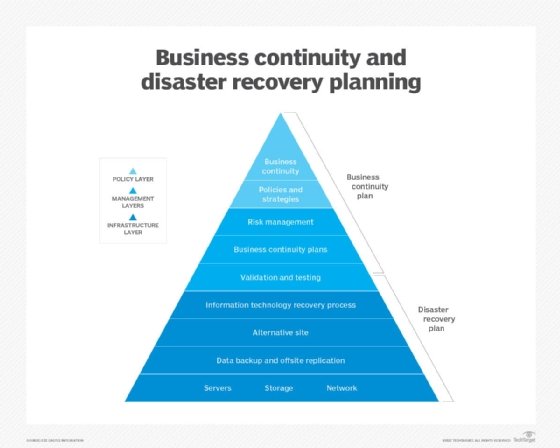 As always, remember to have a workable disaster recovery (DR) plan and to test it regularly. I've seen data centers go down for various reasons, ranging from a technician forgetting to fill the generator with fuel, to a storm causing the loss of both data centers in the same town. Good IT continuity planning requires geodiversity in off-site storage. Preferably, use a cloud zone well away from your home state.
That holds true for cloud-to-cloud backups and DR, too. Zones go down due to power or weather issues, so make sure one data copy is in another geographic area, and watch out for multiple zones in adjacent buildings.
Dig Deeper on Disaster recovery planning - management
OpenStack Cinder has added a revert-to-snapshot function, enabling enterprises to recover from corrupted data sets. However, if the feature falls ... Continue Reading
Don't let backup data encryption fall through the cracks. When encrypting backups, key management and compression are just two of the best practices ... Continue Reading
While tape is notably offline and thus protected from cyberattacks, the cloud could comprehensively surpass it for backup if service providers figure... Continue Reading