Download this free guide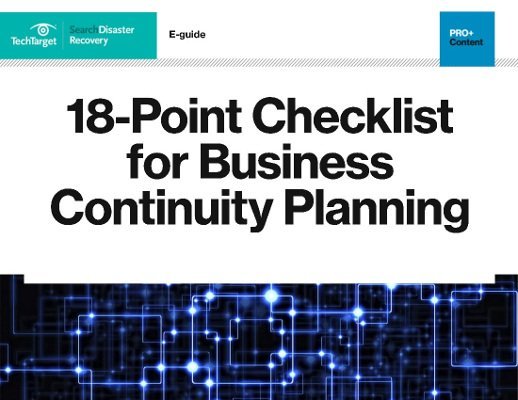 Download: Complete Your Actionable BC/DR Plan in 11 Steps
Download your checklist for completing an actionable business continuity (BC) plan—with this all-in-one, ready-to download PDF containing 7 BC planning mistakes to avoid and 11 steps to ensure sure-fire continuity.
Trending Topics
Commvault split off the disaster recovery capabilities from its Complete Data Protection into a separate product and added automation and recovery validation functions.

As enterprises demand faster backup and recovery, Cohesity adds software advances to DataPlatform that enable it to work better with all-flash appliances from Cisco and HPE.
Margaret Rouse asks:

Do you prefer a manual call tree or an automated notification system? Why?
Find Solutions For Your Project
Evaluate

Global standards aid the process of creating and updating a business continuity plan. The requirements of two popular standards can ensure that your BC team doesn't miss any steps.

View All Evaluate

Problem Solve

COVID-19 has many organizations shifting gears when it comes to pandemic planning, and SMBs are no exception. For small companies, adaptability is the key to recovery.

View All Problem Solve

Manage

International quality management and compliance standards can help an organization kick off a disaster recovery plan for unprecedented scenarios, such as the COVID-19 pandemic.

View All Manage
Pro+

Disaster Recovery Downloads View All
Disaster Recovery Basics
Get Started

A call tree is a layered hierarchical communication model that is used to notify specific individuals of an event and coordinate recovery, if necessary.

Get Started

When updating your organization's pandemic plan, it can help to have these terms handy. These tools, processes and standards are key to a solid recovery plan.

Get Started

Your business continuity plan may address some concerns that come along with a pandemic, but COVID-19 has emphasized the importance of having remote work as part of it.
View All Get Started
Vendor Resources
Sections from across

SearchDisasterRecovery