Download this free guide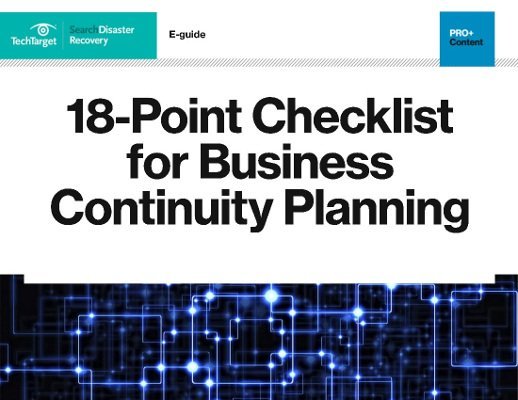 Download: Complete Your Actionable BC/DR Plan in 11 Steps
Download your checklist for completing an actionable business continuity (BC) plan—with this all-in-one, ready-to download PDF containing 7 BC planning mistakes to avoid and 11 steps to ensure sure-fire continuity.
Trending Topics
McKesson Corporation's disaster recovery plan is deeply detailed and relies on Zerto's technology across its many globally distributed business units.

You may need better backup for your container data. Take a look at top news and best practices for container protection, as that data could be critical.
Paul Kirvan asks:

What's the most critical piece of an updated pandemic response plan?
Find Solutions For Your Project
Evaluate

This guide offers information on the effect of the coronavirus on enterprises and the need for pandemic and business continuity planning to keep businesses safe and in operation.

View All Evaluate

Problem Solve

What's next for disaster recovery orchestration? As tools grow and change, orchestration may soon go beyond disaster recovery, as well as aid in planning.

View All Problem Solve

Manage

A well-thought-out BCDR plan is just half of the resilience equation. A solid data protection strategy relies on thorough backup and disaster recovery planning.

View All Manage
Pro+

Disaster Recovery Downloads View All
Disaster Recovery Basics
Get Started

A crisis management plan (CMP) is a document that outlines the processes an organization will use to respond to a critical situation.

Get Started

A pandemic plan is a documented strategy for business continuity in the event of a widespread outbreak of a dangerous infectious disease.

Get Started

To ensure your workplace pandemic response plan is up-to-date and sufficient, check it against other business continuity procedures, and consult important sources for further guidance.
View All Get Started
Vendor Resources
Sections from across

SearchDisasterRecovery