Data center disaster recovery planning tutorial on colocation data centers
In this tutorial on colocation data centers, learn whether or not a collocation data center is the right choice for your company, what to look for in a colocation service, and other data center disaster recovery planning tips.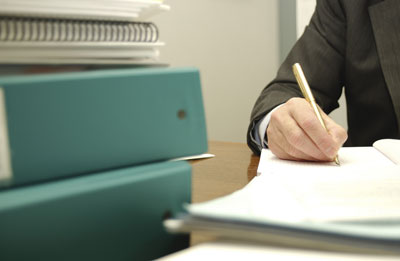 Continue Reading This Article
Enjoy this article as well as all of our content, including E-Guides, news, tips and more.
By submitting you agree to receive email communications from TechTarget and its partners. Privacy Policy Terms of Use.

Colocation data centers are a kind of data center where multiple customers can install network, server and data storage devices, and interconnect to a variety of telecommunications and other network service provider(s). This minimizes overhead and optimizes communications efficiency for all participants as long as the infrastructure is sufficient to handle all the data at times of peak demand.
Depending on a company's size and IT requirements, a colocation facility can become the company's data center, provide a secondary site to the headquarters' data center that supports only certain critical systems, or provide a disaster recovery (DR) facility.
In this tutorial on colocation data centers, learn whether or not a collocation data center is the right choice for your company, what to look for in a colocation service, and other data center disaster recovery planning tips.
Poway, Calif.-based Mitchell Repair Information Company LLC, a company that specializes in car repair manuals and software management systems for car repair shops, decided to deploy its own equipment in a SunGard colocation data center, even though cloud disaster recovery is becoming a popular DR option for many organizations.
Approximately four years ago, according to Mark Zecca, senior director of information technology, the company was using SunGard Availability Services to place servers and NetApp Inc. storage gear one of SunGard's data centers in Scottsdale, Ariz. Today, four NetApp FAS2040 disk arrays replicate data from remote offices to a 100 TB FAS 3160 array at its main data center, where the remote office disk arrays are also managed. In this disaster recovery case study, learn why Mitchell Repair Information chose a colocation data center.

Podcast: Do you need a colocation data center?
What value does a colocation data center have for disaster recovery? How do you know if it's the right choice for your company's disaster recovery strategy? How much does a colocation data center cost? Get the answers to these any other questions in this podcast with business continuity and disaster recovery expert Paul Kirvan.
Click here to listen to the podcast on colocation data centers.
Colocation data centers are popular for organizations of all sizes. One of the benefits organizations have found is that they can save time and cost from sharing data center infrastructure resources and high-capacity network access. Significant benefits of scale (needed for large power and mechanical systems) result in large colocation facilities, typically 50,000 to 100,000 square feet.
With IT and communications facilities in safe and secure locations, telecommunications, internet, application service provider (ASP) and content providers and companies of all sizes, enjoy improved system response times and the freedom to focus on their core business. These facilities also provide a secure disaster recovery capability so companies can locate IT backup assets, such as network services and data storage, in colocation centers.
In this expert tip from Paul Kirvan, learn about important tips for disaster recovery and business continuity professionals when choosing a colocation data center.
New technologies, security threats and compliance mandates have forced many IT execs to consider different data center options, such as consolidating their data centers, outsourcing to the cloud, or to colocation providers. Colocation offers several advantages for those looking to expand or replace data centers like a high bandwidth, five-nines uptime, easier disaster recovery management and improved security. But there are also some downsides to data center colocation providers you need to be aware of.
The expense may be too much for some organizations, and physical access to the equipment may be limited, relying on the staff at the colocation site. In this tip from SearchDataCenter.com, learn about colocation data centers vs. cloud computing and consolidation.
A Forrester Research Inc. survey published in May 2009 shows that from 2006 to 2007, the number of firms that considered outsourcing their data center facility grew from 22% to 44%, and it was predicted that would continue to grow.
Disaster recovery outsourcing is one of the fastest developing trends and takes on many different shapes. In the DR context, outsourcing includes:
Contractual agreement with a recovery services provider (i.e., Hewlett-Packard [HP] Co., IBM Corp., SunGard, etc.)
Collocation space and managed services for recovery systems (standby)
Outsourcing of the entire data center to a service provider including the production IT environment as well as the responsibility for capacity, availability and recovery
In this tip, learn about the most important disaster recovery planning trends for 2010, which include disaster recovery outsourcing and colocation data centers.

Editor's Tip:
To stay up to date on the latest colocation data center tips, news and expert advice, bookmark our special section on disaster recovery services and
disaster recovery outsourcing
.
Dig deeper on Disaster Recovery Services-Outsourcing