News
Stay informed about the latest enterprise technology news and product updates.
Case closed: Law firm selects iland DRaaS for faster, easier DR
Minutes count in legal work, and Graubard Miller needed a simpler platform for disaster recovery. The verdict: The law firm chose iland disaster recovery in the cloud.
Steven Heller, the director of technology for law firm Graubard Miller, "wanted to get out of the hardware purchasing...
Continue Reading This Article
Enjoy this article as well as all of our content, including E-Guides, news, tips and more.
By submitting your personal information, you agree that TechTarget and its partners may contact you regarding relevant content, products and special offers.
You also agree that your personal information may be transferred and processed in the United States, and that you have read and agree to the Terms of Use and the Privacy Policy.
business" regarding his organization's disaster recovery platform.
So, about five months ago, the firm implemented cloud hosting provider iland's disaster recovery as a service (DRaaS) product. The iland DRaaS uses Zerto technology for Graubard Miller's virtual machines (VMs) and Double-Take for its physical servers.
The product was the most cost-effective and easy-to-use choice, Heller said.
Previously, Heller had a two- to three-page document for what he had to do to fail over to DR mode. It would take at least a half day to get the systems up, and failback would take even longer. Heller wanted a simpler method.
When the law firm did a DR test of the iland product, it took only a half hour to get into the document management system and get the VMs up and running. Heller said the iland DRaaS console is intuitive and has everything he needs for DR work. Graubard Miller can execute failovers, as well as view and manage its disaster recovery resources, security and cost information within the single interface.
The law firm, headquartered in New York City, averages about 40 end users. Its primary practice areas include corporate and securities law, litigation, real estate, trusts and estates, employment, intellectual property and taxation. It protects three VMware hosts, one stand-alone server and about 15 VMs -- with 2.5 TB to 3 TB of uncompressed data -- using iland DRaaS.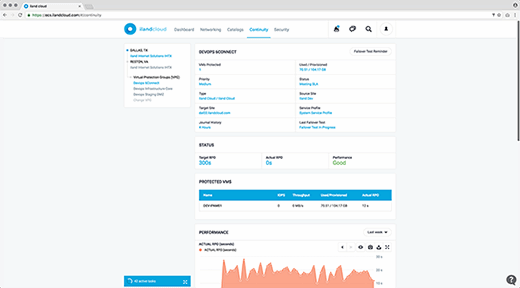 The firm previously used just Double-Take for its disaster recovery, replicating to hardware at a colocation site.
With some litigation, "every minute counts," Heller said. So, it's important for his end users to always be connected.
Heller primarily communicates with iland engineers.
The iland DRaaS security features include role-based access control, two-factor authentication, available VM encryption, vulnerability scanning and Secure Sockets Layer VPN.
"They carve out virtual spaces in the cloud needed to support us," he said. "They work with me to install agents needed for Zerto and Double-Take. It makes it very easy."
Zerto technology has been integrated into the iland management console, said Lilac Schoenbeck, vice president of marketing at iland, which is based in Houston. The product teams of both Zerto and iland have been working together for years on roadmap, innovation and strategy -- through strong relationships and the Zerto Cloud Advisory Board. Zerto named iland its 2016 cloud service provider partner of the year.
Graubard Miller has not had to fail over yet, only testing the capabilities at this point. The on-demand testing is effective and easy, Heller said.
The iland DRaaS security features include role-based access control, two-factor authentication, available VM encryption, vulnerability scanning and Secure Sockets Layer VPN.
Graubard Miller only pays for compute resources when it requires a failover. Ongoing costs are minimal, according to Heller.
Dig Deeper on Disaster recovery services - outsourcing
PRO+
Content
Find more PRO+ content and other member only offers, here.