When a Mighty Wind Blows into Town
South Floridian IT managers don't worry a whole lot about terrorism, but there's one thing they do worry about: hurricanes.
Looking for something else?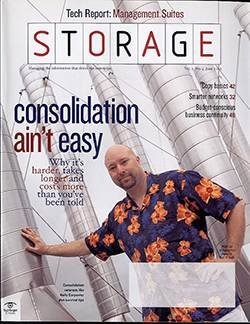 Download
South Floridian IT managers don't worry a whole lot about terrorism, but there's one thing they do worry about: hurricanes. The 2003 season in particular, which officially started last month, promises to be especially strong, say forecasters at Colorado State University.
ANC Rental Corp., based in Fort Lauderdale, FL, for one, is prepared. As the parent company of Alamo and National Car Rentals, its data center is designed to withstand a Category 5 storm using 8-inch steel-reinforced concrete walls and three redundant 1200-kilowatt generators. "It's a bunker," says Brian Mannion, ANC's director of IT operations.
But if executives deem that the data center can't withstand a storm--or more likely, if its network link goes down--ANC has developed a comprehensive off-site recovery plan at a SunGard facility in Philadelphia. The plan calls for a maximum recovery time of 24 hours, which Mannion hopes to get down to approximately 12 hours.
Instrumental to that shortened recovery time objective are 48 new StorageTek 9840 tape drives, with which ANC has retrofitted three PowderHorn tape silos that used to house 3480 drives. With them in place, ANC has brought its backup window down from 12 to six hours. Equally important, a full 2.5TB backup of its Computer Associates IDMS database now takes 15 cartridges, not 330. "That's really impacted our ability to leave the premises," Mannion says, because ANC's staff can now carry the entire dataset away in a single box.
So what happens when ANC, ahem, gets wind of a big storm on the horizon? Twelve to 24 hours before the storm is scheduled to hit, ANC begins journaling changes to its database to the SunGard site. SunGard loads ANC's base environment on to the recovery server. ANC begins a full backup of its database and six hours later, hops on to a chartered plane to Philadelphia. There, the ANC team begins restoring the environment from tape and from the journal. If all goes according to plan, ANC is back up and running well within 24 hours of the time the disaster was declared, servicing clients at its 3,000 worldwide rental desks.
Of course, distance data replication products like IBM's PPRC for Enterprise Storage Server, which ANC relies on, would allow ANC to bypass all these steps. But so far, that approach "is still out of reach" for the company, Mannion says. "We'll examine it again when the cost comes down."
Dig Deeper on Disaster recovery planning - management
PRO+
Content
Find more PRO+ content and other member only offers, here.