Snapshot: Do you replicate your data remotely?
Looking for something else?
TECHNOLOGIES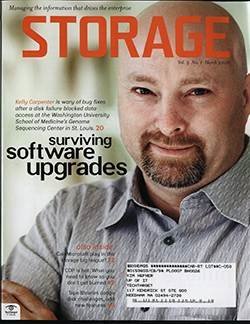 Download
Do you replicate your data remotely?
Companies are finally putting their money where their disaster recovery (DR) plans are. Today, 57% of Storage readers perform some sort of data replication to a remote location, and 51% of those who don't are planning to do it in the next two years. That's a marked increase over a similar survey in December 2004, when only 38% of respondents said they were doing remote replication.
By and large, Storage readers turn to their disk vendors for their replication needs, with 50% of respondents using array-based replication software like EMC's Symmetrix Remote Data Facility (SRDF) or Network Appliance's SnapMirror. And despite industry predictions that replication functionality will increasingly run in the network, 43% of would-be replicators say they're also evaluating array-based software.
When readers say remote, for the most part, they really mean it. Forty-nine percent of replication users copy data to sites more than 100km away, while only 18% do metro-area replication ( < 10km).
Finally, 60% of the time, data replicators are also doing high-availability clustering, ensuring not only that their data is available to within seconds of a failure, but that their applications are continuously available, too. As one reader put it, "geographically dispersed replication goes hand-in-hand with disaster recovery."
The questions below were posed only to respondents who said they weren't currently replicating data remotely.
Are you planning on using long-distance replication?
What one approach to replication interests you most?
Dig Deeper on Disaster recovery storage
PRO+
Content
Find more PRO+ content and other member only offers, here.