Few options for disaster-proof storage
Looking for something else?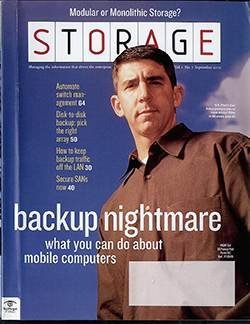 Download
One of Ma Bell's many legacies is the Network Equipment Building System (NEBS) a standard for certifying that equipment used in central offices can survive extreme environmental conditions.
To be rated to NEBS-3, the most stringent test, "they bake [the equipment], they freeze it, they shake it and they drop it," says Omar Barraza, director of product marketing at Dot Hill, whose storage subsystems are all NEBS-certified.
Barraza says that interest in NEBS is on the rise since Sept. 11. "Customers are being much more careful. When it comes to five nines, they're not just taking the company's word for it."
Eventually, NEBS will become the functional equivalent of good housekeeping seal of approval, Barraza thinks. Even if a company doesn't require NEBS certification per se, "there's no disadvantage from a product being NEBS certified," he says.
That's how The Atlanta Journal Constitution, a daily newspaper, feels too. NEBS certification for the AJC is a nicety, not a requirement, says Frank Branham, senior systems analyst. Nevertheless, Branham decided to go with Dot Hill's NEBS-certified SANnet 7120 arrays because, "from past experience at slightly industrial locations, I found that we would lose drives in the RAID arrays."
Unfortunately, there aren't many vendors that offer NEBS-certified storage. Besides Dot Hill, the only other NEBS array vendor is Sun. Multiprotocol switch manufacturer Pirus also sells the NEBS-3 certified PSX-1000.
Eurologic used to sell NEBS-certified storage, but found that "demand for the product was not extremely high," says Sanjeev Aggarwal, director of marketing and business development, and discontinued the line.
But if a customer needs NEBS, Eurologic will work with them to get it certified, Aggarwal says. NEBS-compliance is still part of the design, but "the volumes don't justify the expense" of actually certifying the systems.
Dig Deeper on Disaster recovery storage
PRO+
Content
Find more PRO+ content and other member only offers, here.