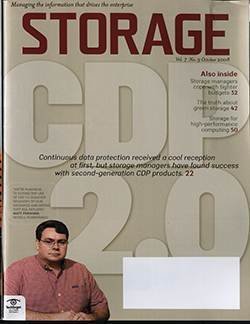 Download
Continue Reading This Article
Enjoy this article as well as all of our content, including E-Guides, news, tips and more.
By submitting your personal information, you agree that TechTarget and its partners may contact you regarding relevant content, products and special offers.
You also agree that your personal information may be transferred and processed in the United States, and that you have read and agree to the Terms of Use and the Privacy Policy.
ONCE A DISASTER strikes a main data center, it's vital to get the proper personnel to the recovery site, track their progress, and let all users affected by the loss of their apps and data know what happened and when they can reasonably expect service to be restored.

For the past four years, Symantec has conducted a global survey on how well, and fast, companies feel they can recover data and get back to normal operations after a major business disruption. For those companies with disaster recovery (DR) plans, this year's findings are grim: 30% of DR tests fail. The 2008 Disaster Recovery Research Report cited the following reasons for the high failure rate: "People do not do as they are supposed to (35%); technology doesn't do what it is supposed to (29%); insufficient IT infrastructure at DR site (25%); out of date plans (24%); and inappropriate processes (23%)."

One way to increase the odds that your DR operation will succeed is to use an emergency communication system. Systems from vendors such as 3n Global, Dell MessageOne, Dialogic Communications, MIR3, Send Word Now (SWN) and Varolii are designed to automate the delivery of various messages to different groups depending on their role in the DR process. The programs enable two-way communication to various types of mobile devices, maintain up-to-date contact information, and provide real-time reporting not only to those involved in the recovery but to management and end users.

David Erwin, CIO at the 600-employee Adams and Reese LLP law firm in New Orleans, says he pays "a little under $25,000 a year" for MessageOne's Email Management Services (EMS), and during and after Hurricane Katrina, "it was money well spent."

Most organizations prefer to use a service rather than deploy the emergency communication system themselves within their main data center and at a DR site.

According to a recent report on emergency communication systems by Stephanie Balaouras, principal analyst at Cambridge, MA-based Forrester Research, there are certain things to test and examine before signing on to a particular service. These include ease of setup, such as whether there are templates to help you create contact policies; message delivery, including mobile device support; monitoring and reporting, such as the number of messages sent and received; as well as integration with continuity management software. Other considerations are the number of ports or bandwidth guaranteed in the service-level agreement; how often and easily you can test the system, and at what cost; and whether security includes internal access controls.

Emergency communication service pro-viders bill in one of two ways: a fee per message recipient or a fee per administrator, which includes an unlimited number of recipients. Balaouras says the fee per administrator is the better option "if you're planning an acquisition or divestiture, or if you frequently hire consultants."


--Rich Friedman
Dig Deeper on Disaster recovery planning - management
PRO+
Content
Find more PRO+ content and other member only offers, here.