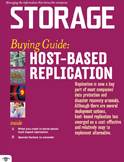 Data replication has grown steadily over the past 15 years into a critical component of most companies' disaster recovery (DR) and data protection architectures, especially for applications and data that require recovery point objectives (RPOs) and recovery time objectives (RTOs) that are too stringent for tape-based systems to meet. The replication chore can be performed by storage arrays, on hosts or in the network. Although there are several deployment options, host-based replication has emerged as a cost-effective and relatively easy-to-implement alternative.
While array-based replication garners approximately 80% of the worldwide revenue in storage-based replication, according to Steven Scully, research manager for continuity, disaster recovery and storage orchestration at IDC, host-based replication, with its revenue percentage share in the low teens, is predicted to have the faster compound annual revenue growth rate until 2012 (close to 20% vs. 10% for array-based replication).
If we look at the number of installations, host-based replication, as a result of its low price, simplicity and resulting attractiveness to small- and medium-sized businesses (SMBs), is by far the most widely deployed replication method.
With three competing replication approaches that differ in where the replication occurs—array, network or host—and numerous replication products within each category, any storage replication evaluation needs to start by determining the category that best fits the requirements before choosing the most suitable product within that category.
In this buying guide on host-based replication, learn about the key features in host-based replication products, file-based vs. block-based replication, the best environments for host-based data replication, and how to choose the best product for your environment.
This was first published in May 2011